Cultural info
Underwater museum - Sarcophagi - Pocukmarak cove
Antique protected sarcophagi - submarine arheological museum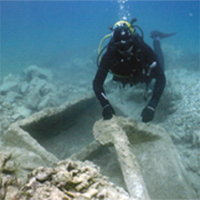 Pocukmarak Bay is an area where a team of arheological experts led by Professor Zdenko Brusic from Zadar University has found a sarcophagus that may be 1,500 years old. They discovered the stone sarcophagus and two covers.

Archaeologists will clean the silt from the sarcophagus and the other remains, document their current state and record their location on the land and in the sea in the bay in Silba.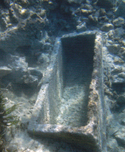 The sarcophagus is the first indication of a Roman presence on the island. Considering the specific details on the covers, it is assumed they could also date back to late antiquity (fourth to sixth centuries AD).

The area is easily accessible since the water there is only three metres deep and there is no need for diving equipment. An ordinary swimmer with just with mask on his face could get to know a small part of the Silban and Croatian heritage.
photo and info - Brochure: Sarcophagi, Silba - Pocukmarak cove, prof. Zdenko Brusic
To celebrate their 60th anniversary as a clothing label, Fred Perry has joined forces with some of Japan'
MBT KIMONDO MEN
s biggest names including visvim, Undercover,
NIKE KYRIE 2
sacai, kolor, and COMME des GARCONS Junya Watanabe MAN. Included in the collection are 7 unique polos each done in collaboration with the Japanese brands. The polos will be available in limited quantities at 60 YEARS GALLERY located at Tokyo'
NIKE PRESTO FLIEGE
s  Dover Street Market Ginza from April 2nd to April 25th.
NIKE AIR MAX 2017
WHIZ LIMITED joined forces with The North Face for Fall/Winter 2013 to rework the 8″
NIKE AIR ZOOM SPIRIDON RETRO 16
Snow Shot boots.
AIR JORDAN XXXI MEN
While keeping the tried and tested construction comprising a water-resistant and breathable TEKWPROOF membrane,
Clarks Originals Schuhe
a mix of synthetic and natural fiber lining, as well as a lightweight EVA sole and insulation,
MBT FORA GTX WOMEN
the boot's upper has undergone an all-black makeover,
AIR JORDAN 23
resulting in a both sleek and highly functional boot just perfect to conquer even the harshest seasonal challenges. They are now available at select WHIZ LIMITED stockists throughout Japan. Photography: RUDO Magazine .
MBT KIMONDO GTX MEN