Tourist info
Silba bays
Zalic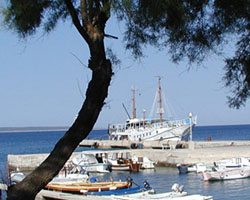 Zalic is the main Silba harbour. It is situated on the south-west side of the island and is very close to the center. It is really not suitable for swimming since its primary purpose is to be a quay for the big ships, ferrys and catamarans that sail from Zadar, Pula, Mali Losinj. We also have to warn you that it is not possible to anchor private yachts there. If you come to Silba by travel boat, bay Zalic is probably the first thing you will see so take a good look at the pictures to avoid any potential misunderstandings while disembarking the ship.
Porat Sv. Ante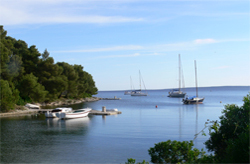 Porat Sv. Ante is a bay situated on the south side of the island and is really the only reliable, or better to say, possible place for anchoring private boats on this side of the island.
It is not especially attractive for swimming but you can take a look at the little Church of St.Mark which is placed only few meters from the sea. Porat Sv. Ante is very safe place to anchoring sailingand motor boats..
Dobre Vode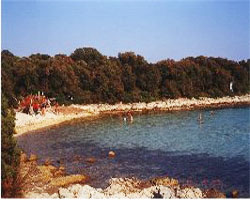 Dobre vode is a very small, but also very attractive Siba bay. It is similar to the Sotorisce as far as color of the sea (ligth blue-green) and the surfacse (sand) is concerned, but is also quite different. That is to say due to its distance from the center (app. 3km) and also because there are no coffe bars, sport facilities ..., so it is more like one of those Robinson Crusoe places. To get there, you have to face a 45 min. walk through the woods following narrow paths. It sounds a bit scary and adventuristic, but infact, it is not really like that. Dobre Vode bay is ideal for people who prefere small beaches with not so many people...
Nozdre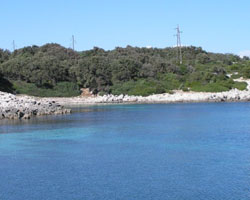 Nozdre is a beautiful bay that has two parts, or it's better to say, two little separate bays. One of them is completely covered by sand, and the other one is partly covered with sand and partly with gravel. Nozdre are quite far away from the center but are only about 15 minutes on foot away from Dobre Vode so the best way is to see them both in one day. It is not probably neccesary to say that there are no coffe bars or anything similar there. Nozdre is a beach made for people who don't like crowded spots and like to enjoy clear sea without disturbance
Mul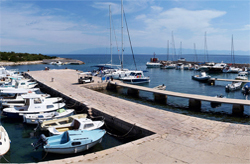 Mul is one of the two Silba harbours. It is only 200m away from the center and is placed on the north-east side of the island. The main difference between Mul and Zalic (the other harbour) is that Mul is primarely used as a quay and shelter for private motor boats and yachts while Zalic is used only by big ships and travel boats.
Since Mul is quite small, you can never be sure to find a place there.
Pernastica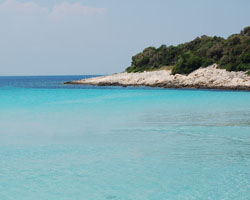 Pernastica is not so popular, but as far as author of this text is concerned, the most beautiful Silba bay. It's even further away from the city center (4,5 km) and the best way to reach it is by sea or by one hour walk through the woods. We have to warn you that there is very little place on the coast to leave your personal belongings so a small excursion using the small boat is the safest option. In the 51. edition of the Croatia's most popular nautic magazin "More" Pernastica was mentioned as one of the 10 most beautiful sand bays in Croatia. Take a close look on the photos...
Papranica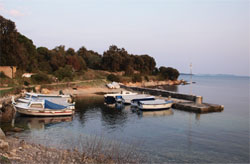 Papranica is a bay with a small pier only 20 minutes away from the city center. It's a nice bay to spend a day in eventhough it doesn't offer many additional contents. It is special due to 10 houses there that have no water or electricity.
Papranica can also be used as a short stay shelter in case of a strong wind or storm..