Tourist info
National parks and Nature Park in Zadar and Pula surroundings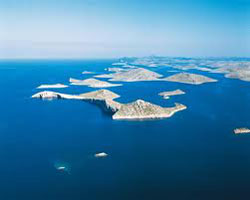 While in Zadar or Pula you have a chance to visit one of the marvellous National Parks or Nature Parks located on their surroundings .....
NP Plitvice Lakes
NP Norht Velebit
NP Paklenica
NP Krka Waterfalls
NP Kornati
PP Telašcica
NP Brijuni
National Park Plitvice Lakes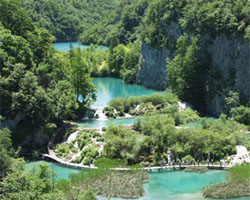 Croatia's first National park established in 1949 covers 296.85 km2 of breathtaking natural splendor becoming with it the largest among the eight national parks of the country.
The park was inscribed on the UNESCO's World Heritage List in 1979, in recognition of its "outstanding natural beauty and undisturbed production of travertine (tufa) through chemical and biological action". The park represents a phenomenon of karst hydrography.
More info .... www.np-plitvicka-jezera.hr
National Park North Velebit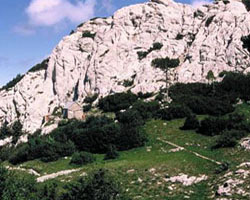 The most valuable and most attractive region of the summit area of Velebit in terms of nature. The Park covers the surface of 109 km2, and inside there is the Hajducki & Rožanski Ledges Strict Reserve, famous for its geomorphological phenomena - the pits.
As parts of the park, there are the Visibaba botanical reserve, the Zavižan-Balinovac-Velika kosa botanical reserve and. widely known Velebit Botany Gardenwith outstanding collection of species of the mountain flora.
More info .... www.np-sjeverni-velebit.hr/
National Park Paklenica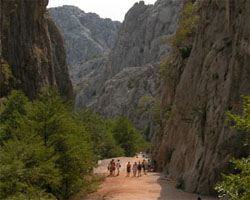 A national park on the southern side of Velebit, the largest mountain massif in Croatia.
Paklenica is an area of unusual contact between the sea and the mountain, rich in natural forests of beech, black pine and mountain pine.
More info .... www.paklenica.hr
National Park Krka Waterfalls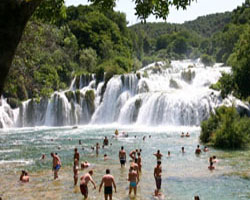 The travertine waterfalls of the Krka River are the fundamental phenomenon of the park and the backbone for the landscape of today, and the reason for the proclamation of this area as a national park 1985.
Krka River has seven falls, the last one being Skradinski buk with an average flow of 55 cubic meters of water per second. National Park Krka is rich in flora and fauna. 222 bird species live there, making it one of the most valuable ornithological areas in Europe.
More info .... www.npkrka.hr
National Park Kornati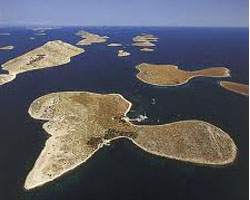 In the central part of the Croatian Adriatic, on the meeting point of Šibenik and Zadar islands, a separate and by many a specific group of islands, called Kornati, is situated.
Because of its exceptional landscape beauty, interesting geomorphology, diversity of the coastline and especially because of the rich biocoenoses of the marine ecosystem, greater part of the Kornati maritime zone has been declared a national park in 1980.
More info .... www.kornati.hr
Nature Park Telašcica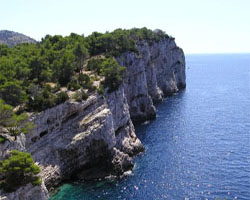 Telašcica bay is situated in the central part of the eastern Adriatic coast, in the SE part of the island of Dugi otok. Thanks to its extreme beauty, richness and importance, this bay surrounded by 13 islands and islets, together with 6 islets inside the bay of Telašcica itself, was proclaimed a Nature Park in 1988. The area of "Telašcica" NP is distinctly contrasted area with quiet and peaceful beaches and laid down coastline on one side and wild and rough cliffs on the other.
More info .... www.telascica.hr
Nature Park Brijuni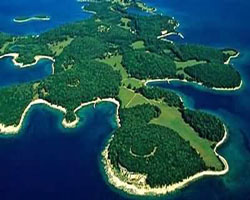 Brijuni archipelago are attractive group of islands near Istria Peninsula, with the main islands Veli Brijun that is Croatia National Park and open to visitors. The islands are rich in natural beauties, flora and fauna brought here from various parts of the world. On Brijuni there is an attractive archaeological site the Byzantine castrum and luxurious Roman villa, Ethnographic collection, Collection of frescoes, Archaeological Museum and Natural history exhibit.
More info .... www.brijuni.hr/
Excursion to National Parks Kornati or Park of Nature Telascica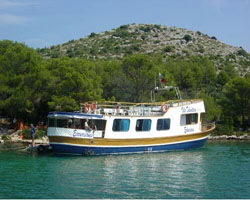 We invite you to a splendid one day cruise to the beautiful Park of Nature Telascica or the National Park of Kornati - an archipelago of more than 130 islands and islets, the most attractive and most visited place on Zadar Riviera. You can see there cliffs more than 160 m high, the unique salt lake on the island Dugi otok.
Boat "Vila Dalmatina" with its comfortable saloon, bar and sun-deck offers a complete and enjoyable service. During the cruise we serve (included in the price) aperitifs, midmorning snack – lunch: grilled fish and meat with siding and salad, beverage and water.
More info - ask for service .... Silba Online
Excursion to National Parks Krka, Paklenica, North Velebit, Plitvice Lakes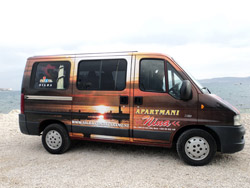 If you decide to visit some of "inland" National Parks and start you excursion from Zadar we can offer comfortable mini van transfer for group from 4 to 8 people.
More info - ask for service .... Silba Online